Sony a9: specifications and reviews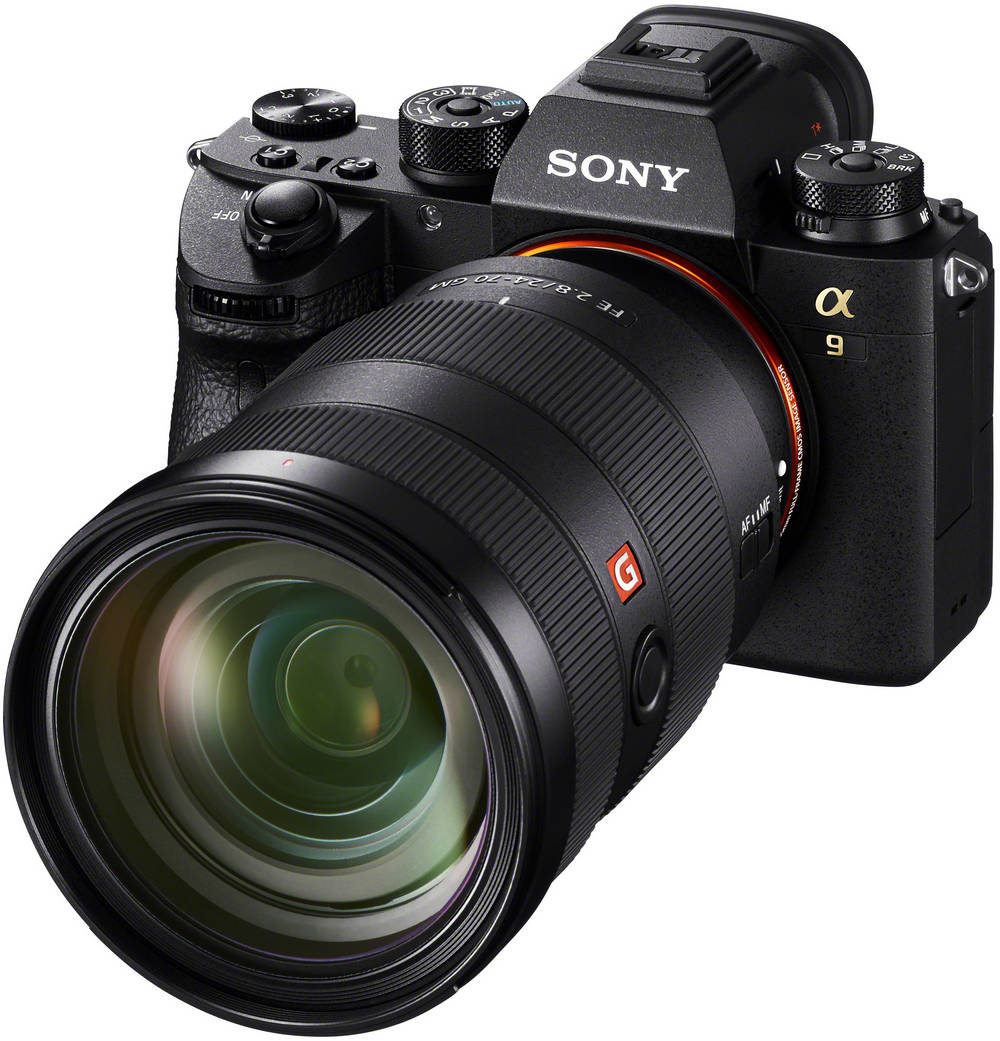 Product images (click to enlarge):

Specifications
Professional model aimed especially at sport/action photographers. No viewfinder blackout.
Sensor

24

Full frame

35.6 mm.

23.8 mm.

1.01

3:2

Yes

No

100

51200

24.9 bits

13.3 EV

3517 ISO

Auto Focus and Metering

693

-3.0 EV

f/16

No

-3.0 EV

No

Performance

Mechanical and Electronic

5.0 frame/sec.

20.0 frame/sec.

5.0 frame/sec.

20.0 frame/sec.

1/32000 sec.

1/8000 sec.

1/250 sec.

650 shots

650 shots with LCD, 480 with viewfinder

ViewFinder & LCD Screen

Electronic (EVF)

100%

0.78x (35mm. equiv)

3.69 million

3.0 in.

1.44 megapixel

Tiltable less than 180°

Tap to focus

Video

Yes

Full HD @ 24/25/30p, Full HD @ 50/60p, Full HD @ 100/120p, 4k @ 24/25/30p

1.00

H.264

4:2:2 at 8 bit

1.2x crop @ 4K 30p

Other Characteristics

Yes

Yes

No

No

Yes

Connectivity & Storage

Microphone, Phones, HDMI, Power, Ethernet, External flash

Dual slot,

SD

, SD UHS-I, SD UHS-II,

Memory Stick

WiFi, Bluetooth, NFC
DPReview 9/10
With meaningful ergonomic and user interface improvements, the a9 is a polished and highly capable camera. It may not be a go-to camera for landscape and studio photographers, but its compact dimensions, silent operation, abundant speed and blackout-free shooting make it not only a step forward for mirrorless, but a compelling proposition for professionals who can't afford to miss a moment.
The Digital Picture
The a9 takes Sony's camera lineup to a new level of performance, including a 20 fps frame rate, silent shutter and no-blackout viewfinder. The ease of use improvements found should similarly be considered. This very capable camera's biggest shortcoming, at least for some professional photography pursuits, is the lack of wide aperture, long focal length lenses, to be erased in the near future.
Ken Rockwell
The Sony A9 is a landmark camera. It shoots faster and more autonomously than any other camera. Set it as you want it, and it will self-focus and shoot anything in any light with ease — so long as you use good lenses. Much of the fast focus magic is lost if you waste time with old lenses not optimized for Sony mirrorless cameras.