Sony a7R V: specifications and reviews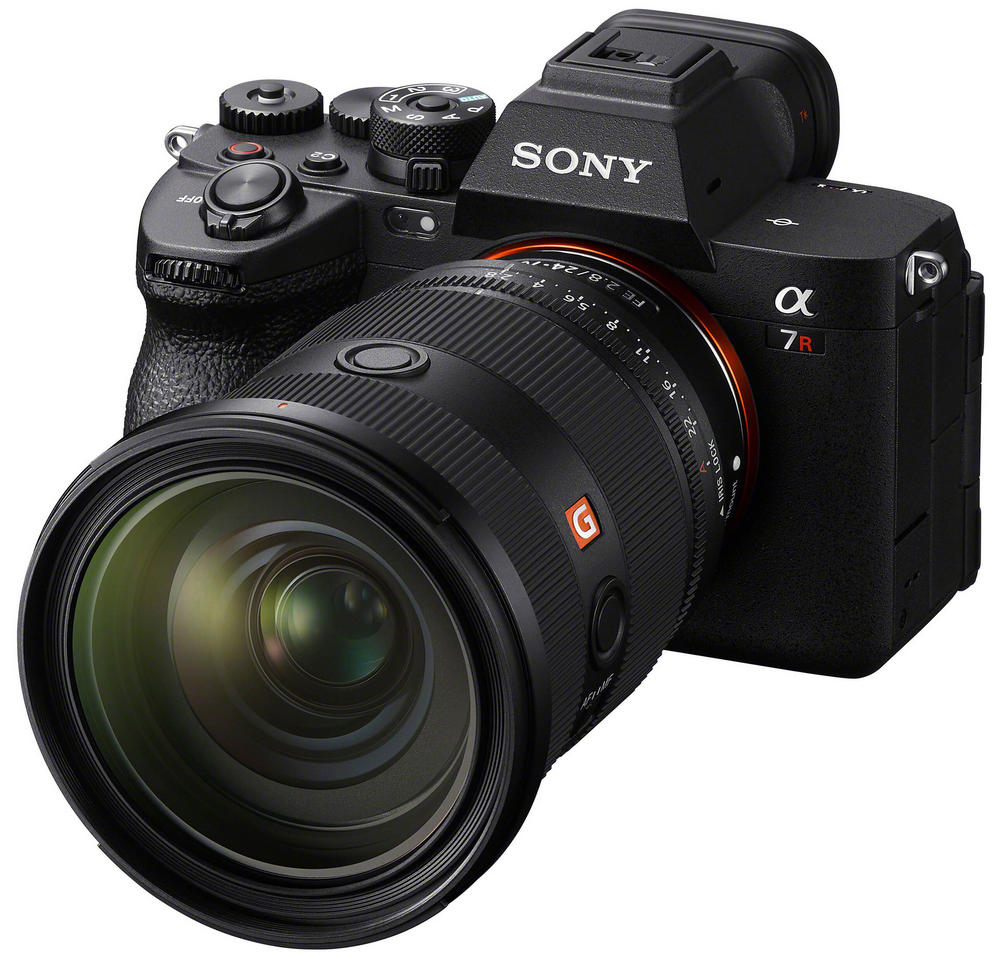 Product images (click to enlarge):
Specifications
Sensor

61

Full frame

35.7 mm.

23.8 mm.

1.01

3:2

Yes

Yes

100

32000

26.1 bits

14.8 EV

3187 ISO

Auto Focus and Metering

693

-4.0 EV

Embedded, full

-3.0 EV

Yes

Performance

Mechanical and Electronic

10.0 frame/sec.

10.0 frame/sec.

10.0 frame/sec.

10.0 frame/sec.

583

1000

1/8000 sec.

1/8000 sec.

1/250 sec.

530 shots

440 shots with a charge using the viewfinder, flash sync up to 1/320 in APS-C mode

ViewFinder & LCD Screen

Electronic (EVF)

100%

0.90x (35mm. equiv)

9.44 million

3.2 in.

2.10 megapixel

Tiltable to 180°

Settings, Tap to focus

Video

Yes

Full HD @ 24/25/30p, Full HD @ 50/60p, Full HD @ 100/120p, 4k @ 24/25/30p, 4K @ 50/60p, 8K @ 24/25/30p

1.20

H.264, H.265

RAW at 16 bit

streaming via USB in MJPEG up to 4K@15/12.5 fps (NTSC/PAL) or Full HD@60p. No crop up to 4K@24/25/30p or FullHD@100/120p

Other Characteristics

Yes

Yes

No

No

Yes

Connectivity & Storage

Microphone, Phones, HDMI, USB3, Power, USB-C, External flash

Dual slot, CF Express A,

SD

, SD UHS-II

WiFi, Bluetooth
PetaPixel Sony a7R V vs Nikon Z8: A Battle of Mirrorless All-Stars
In our video comparison, the Sony a7R V wins in almost every category. The sensor has more megapixels, the autofocus is more effective, and I do personally prefer the handling and extended battery capacity. [...] However, it's the Nikon Z8 that might be the surprising winner when you take in to consideration all the factors.
DPReview 9.2/10
It is a high resolution mirrorless camera, combining an excellent sensor with a powerful autofocus system in a body refined [...]. It lends itself to a wide range of photography, from portraiture and landscape work to wedding and events. Its cropped, slow readout 8K video is the only real weakspot.
DxO Mark 100
[Sensor tests] the fifth-generation model with its new AF system and improved sensor shift is certainly a potent and hugely capable camera [...]. While there are a few differences in the sensor output in terms of color depth and dynamic range at various ISO settings, the modifications are marginal.