Panasonic Lumix DC S1H: specifications and reviews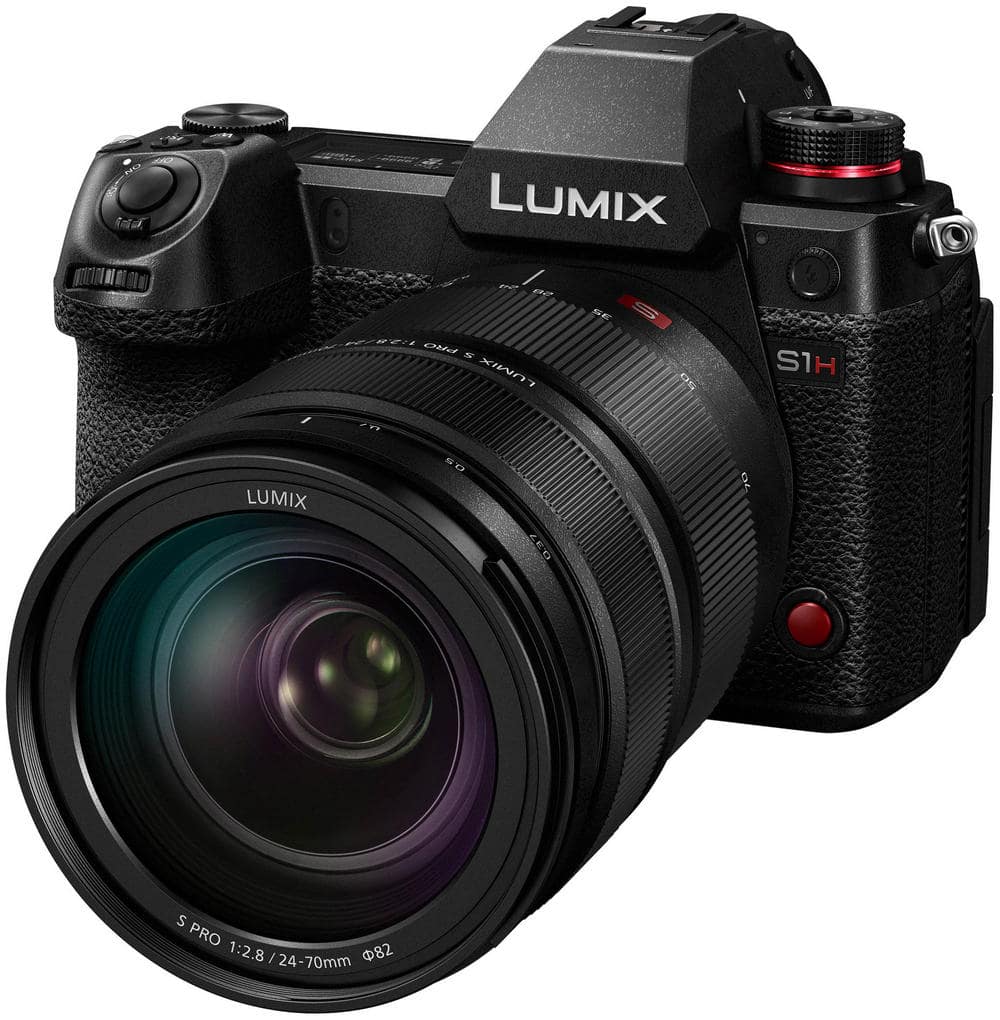 Product images (click to enlarge):

Specifications
with top LCD panel. RAW video output with firmware v2.
Sensor

24

Full frame

35.6 mm.

23.8 mm.

1.01

3:2

Yes

Yes

100

51200

Auto Focus and Metering

225

-6.0 EV

Embedded, full

0.0 EV

Yes

Performance

Mechanical and Electronic

6.0 frame/sec.

5.0 frame/sec.

9.0 frame/sec.

9.0 frame/sec.

60

999

1/8000 sec.

1/8000 sec.

1/320 sec.

400 shots

30 fps with 6K images, 60 fps with 4k images

ViewFinder & LCD Screen

Electronic (EVF)

100%

0.78x (35mm. equiv)

5.76 million

3.2 in.

2.33 megapixel

Full

Settings, Tap to focus

Video

Yes

Full HD @ 24/25/30p, Full HD @ 50/60i, Full HD @ 50/60p, 4k @ 24/25/30p, 4K @ 50/60p, 5.5K @ 24/25/30p, 6K @ 24/25/30p

1.00

H.264, H.265

RAW at 12 bit

4K @ 60 fps in Super 35mm mode with 1.5x crop

Other Characteristics

Yes

Yes

No

No

Yes

Connectivity & Storage

Microphone, Phones, HDMI, USB3, Power, USB-C, External flash

WiFi, Bluetooth
DPReview 9/10
It brings the features and feel of Panasonic's GH series to the L-mount full-frame system. It's a compact and affordable package if judged according to the standard of its broadcast-grade footage. The rolling shutter figures are worth being conscious of, and the autofocus isn't as impressive as the rest of the camera, but overall it's a superb video tool that will address a wide range of needs.
Tomshardware
E' tra le migliori mirrorless sul mercato per l'utenza professionale che desidera una macchina in grado di registrare video e scattare foto di elevata qualità. [...] L'autofocus non è ancora all'altezza di altre concorrenti, il peso può limitarne l'uso in certi contesti.