Fujifilm X-T5: specifications and reviews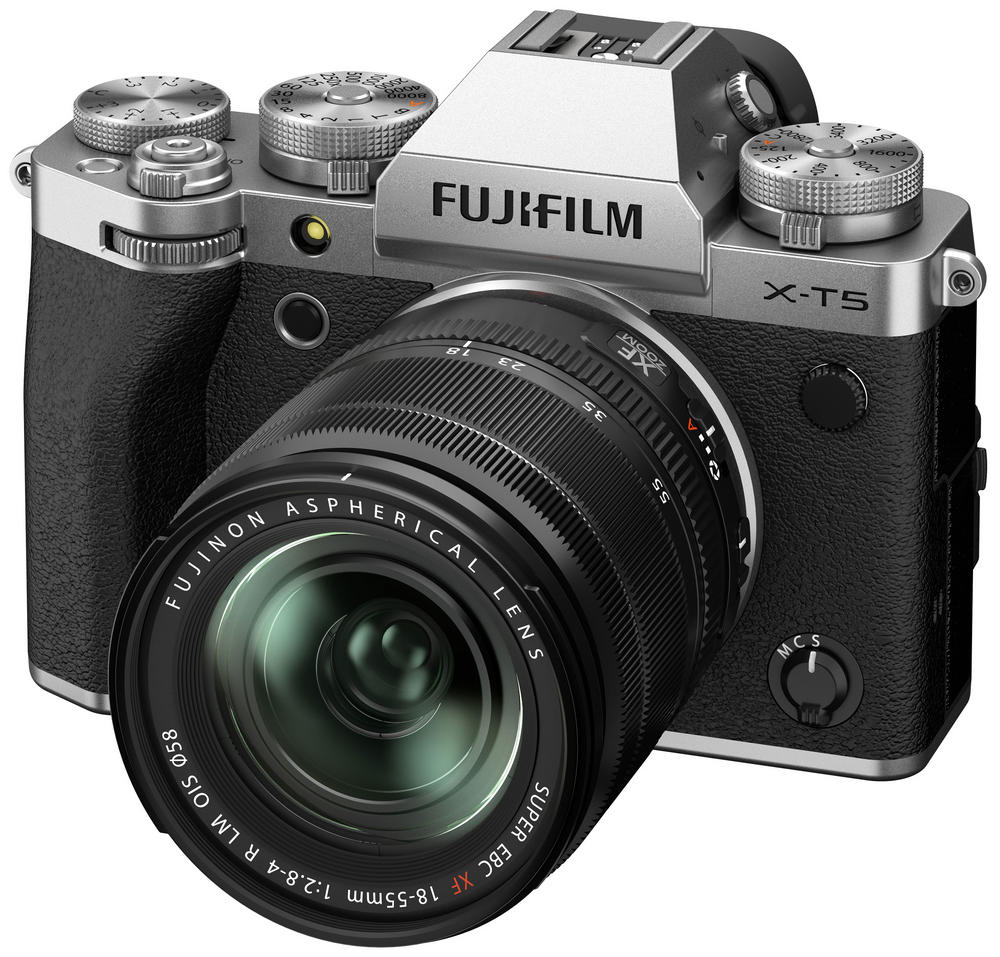 Product images (click to enlarge):
Specifications
Sensor

40

APS-C

23.5 mm.

15.6 mm.

1.53

3:2

Yes

Yes

125

12800

Auto Focus and Metering

425

-7.0 EV

Embedded, full

AF with down to -4 EV in contrast detection, to -7 EV in phase detection

Yes

Performance

Mechanical and Electronic

15.0 frame/sec.

13.0 frame/sec.

15.0 frame/sec.

13.0 frame/sec.

39

119

1/180000 sec.

1/8000 sec.

1/250 sec.

580 shots

up to 20 fps burst with 1.29x crop and electronic shutter

ViewFinder & LCD Screen

Electronic (EVF)

100%

0.80x (35mm. equiv)

3.69 million

3.0 in.

1.84 megapixel

Tiltable to 180°

Settings, Tap to focus

Video

Yes

Full HD @ 24/25/30p, Full HD @ 50/60p, Full HD @ 100/120p, Full HD @ 200/240p, 4k @ 24/25/30p, 4K @ 50/60p, 6K @ 24/25/30p

1.22

H.264, H.265

4:2:2 at 10 bit

F-Log2, F-Log or HLG curves; 4K@60fps with no crop

Other Characteristics

Yes

Yes

No

No

Yes

Connectivity & Storage

Microphone, HDMI, USB3, Power, USB-C, External flash

WiFi, Bluetooth
DPReview 9/10
It is our favorite APS-C camera for stills photographers. It's fast, well-designed, and capable of class-leading image quality. However, video quality isn't its strong suit and there are slightly more reliable autofocus systems for the money.
ProMirrorless
In questa recensione approfondiremo i vari test, qualità d'immagine e autofocus in primis, sulla Fujifilm X-T5 confrontandola, in particolare per quanto riguarda la gamma dinamica e le prestazioni agli alti ISO, alla Fujifilm X-T4, macchina da cui eredita il tanto apprezzato family feeling della serie X-T fatto di ghiere e pulsanti.
Saggiamente
Si libera dal peso di dover essere un factotum riscoprendo una identità più spiccata. Si alleggerisce nel peso, ma anche di qualche specifica, in particolare per video e velocità di scatto, proprio i due settori dove l'azienda oggi propone le due nuove regine: X-H2 e X-H2s. È tutto molto più chiaro, ora, ma il cambiamento ci porta all'assenza di un modello come X-T4 (ovvero compatto, con schermo articolato e supporto per battery grip).