Fujifilm X-T200: specifications and reviews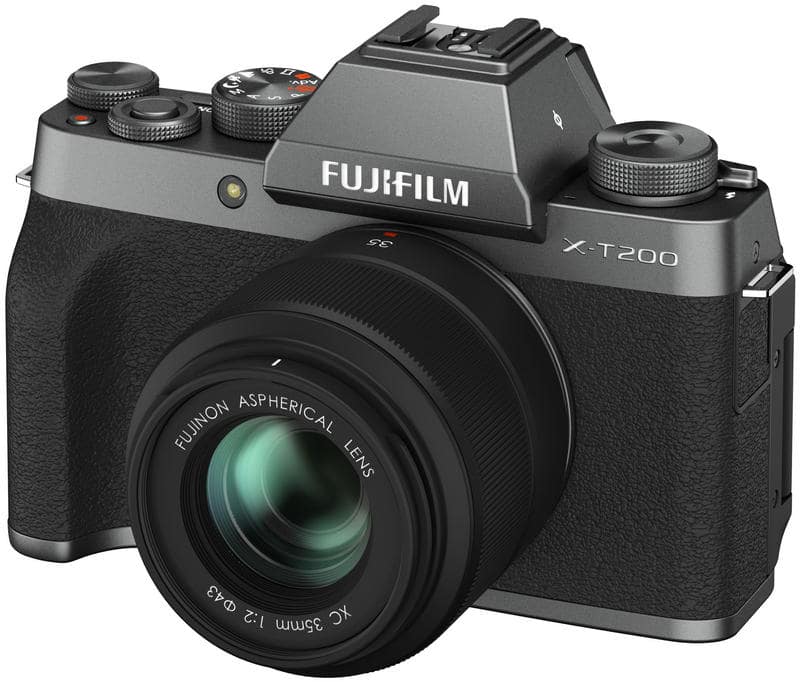 Product images (click to enlarge):

Specifications
headphones connectable through USB adapter
Sensor

24

APS-C

23.5 mm.

15.7 mm.

1.53

3:2

No

No

200

12800

Auto Focus and Metering

425

Performance

8.0 frame/sec.

1/32000 sec.

1/4000 sec.

1/180 sec.

270 shots

Viewfinder & Screen

Electronic (EVF)

100%

0.62x (35mm. equiv)

2.36

3.5 in.

2.76 megapixel

Full

Settings, Tap to focus

Video

Yes

Full HD @ 24/25/30p, Full HD @ 50/60p, Full HD @ 100/120p, 4k @ 24/25/30p

1.00

H.264

HDR and electronic (not optical) stabilization functions

Other Characteristics

Yes

Yes

No

No

Connectivity & Storage

Microphone, Phones, HDMI, USB3, USB-C, External flash

WiFi, Bluetooth
DPReview 8.2/10
It is a camera with an attractive design, good build quality and fantastic 3.5" display [...]. Its photo and 4K video quality are very good, though 1080 quality isn't so hot [...] The camera does has some ergonomic quirks, its autofocus is good but not great, and its battery life is average.
DDay.it 8/10
È destinata a chi vuole cominciare a fare sul serio con le mirrorless [...] Il sensore da 24,2 MP cablato in rame riesce a garantire la maggior parte dei risultati negli scatti grazie a un rumore davvero contenuto anche alti ISO [...] Peccato per quel Live View depotenziato, che permette di vedere sul monitor come verrà la scatto solo se si usa il programma manuale [...] Potrebbe davvero essere la porta d'ingresso per i fotografi entusiasti.