Yesterday Nikon has presented its first two full-frame mirrorless cameras, also to fight switch of photographers to Sony, that recently with its full frame cameras of A7 and A9 series is increasing its market share - this month Sony shared the news that it is now the first full-frame cameras brand in the United States. The official video of the presentation is available at this link, while here below you can find the official presentation of one of the new cameras: the Z7.
Back in time, Nikon tried to enter the mirrorless world with 1-series (smaller format than full frame), but with no success - last July this product line was retired.
This time Nikon seems resolute and launches the new Z series of full frame mirrorless cameras. In this article we will analyze all the important characteristics and some comparison with the Sony competition.
After a quick overview of the specifications, it seems as Nikon wanted (or "had to") match the gap with Sony, but is not offering some particularly new feature, except for the new mount, the Z mount: we start from this aspect.
Mount and new Lenses
The new Z mount shows two main differences compared to current Nikon full frame FX mount:
larger of 8 mm, reaching a diameter of 52 mm, much bigger than Sony's one (46.1 mm) but still a bit smaller than Canon's one (54 mm). The increased width of the mount will serve two purposes:

enhance optical quality in the image borders - sharpness but most of all vignetting since the borders/corners on the sensor are no more on the limits of the aperture but there is still "room", so that typical weakness of lenses (like light reduction in corners -vignetting-) will be much less pronounced.
being able to build wide apertures lenses, very fast ones. Infact Nikon has announced it is working on a 58 mm f/0.95, sì yes, aperture wider than f/1, like the (rare) Nocturnus lenses by Meyer Optik.

much closer to the sensor, the so called flange distance is reduced from 46.5 mm to only 16 mm, and this is possible mainly for being a mirrorless, so that there is no more need to leave room for the mirror. Here Nikon has really shrunk: 16 mm is the narrowest flange distance of all full frame formats (e.g. Sony's one is 18 mm). Short flange enables to have more compact lenses and cameras (one of the reasons for mirrorless to have become popular at the beginning of their existence), though we know that when we go with longer focal lenses, physics law are there and we still get long and big telephoto lenses.
The new mount allows to use current, numerous lenses with FX mount through an F ↔ Z adapter, called FTZ, that supports all features of the legacy lenses: AutoFocus (except for old lenses without an AF motor inside) and vibration reduction (VR series). Warning: the new 5-axis sensor stabilization introduced with the new Z cameras downgrades to 3-axis when non Z-native lenses are connected through the adapter (pitch, yaw and roll are compensated and not translations).
Along with the new cameras, first 3 lenses with native Z mount will be available, introducing the new S line lens (yes, new line called "S" with Z mount and not new "Z" line, "S" stands for Superior):
Nikkor Z 35 mm f/1.8 S - a fast wide angle prime;
Nikkor Z 50 mm f/1.8 S - a fast standard prime;
Nikkor 24-70 mm f/4 S - a classical zoom, though not too fast (aperture f4).
Other 9 lenses have been planned for 2019 and 2020 as in the chart below (image property of Nikon):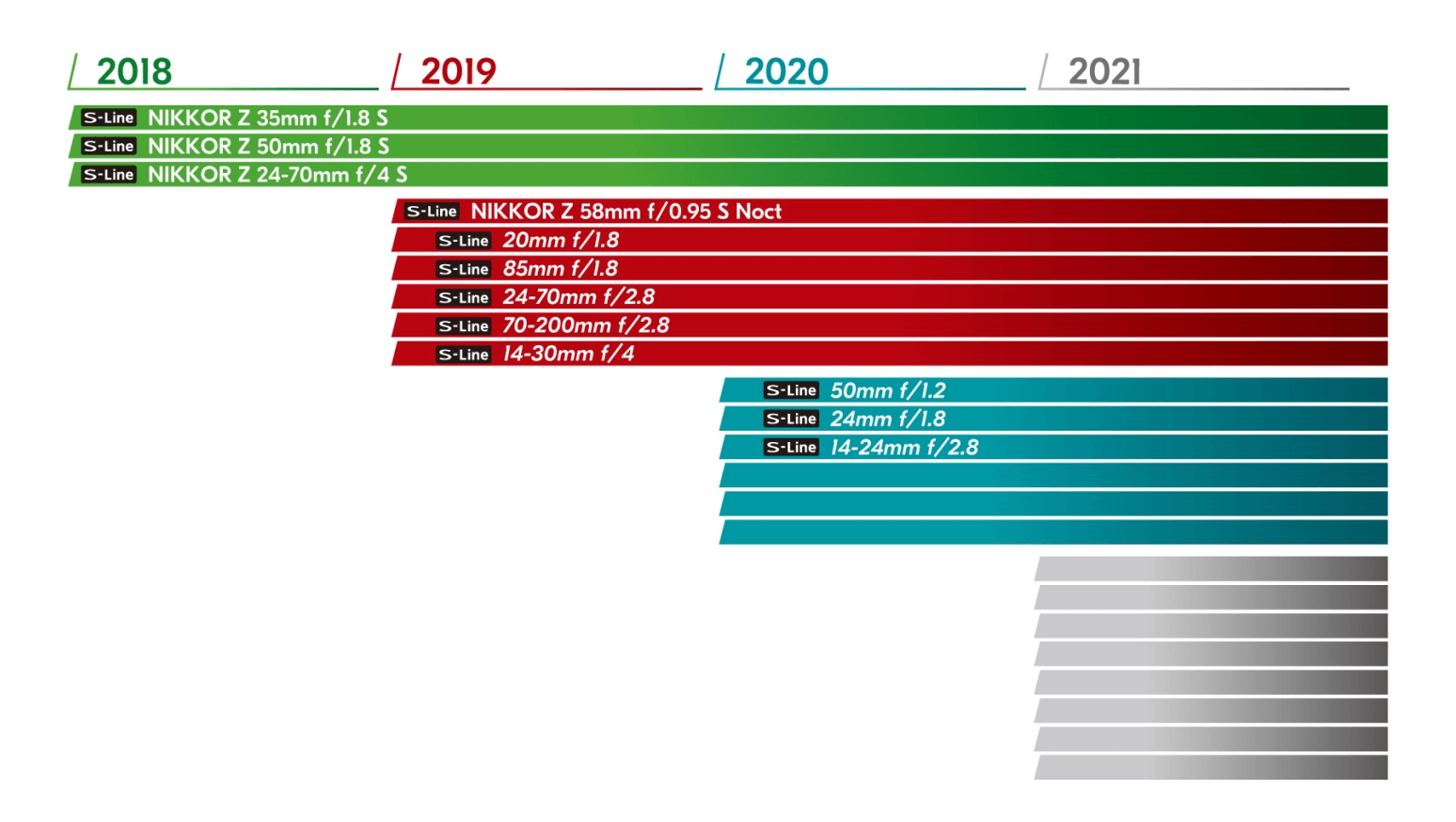 The press release on the new mount is available at this link and below you can see the official presentation video.
The new cameras
And now let's move to analyze in detail the characteristics of the new cameras: Z6 and Z7. The body externally is exactly the same, the interiors distinguish them:
the Z7 is focused to resolution: 45.7 megapixel, almost 4 MP more than the Sony A7RIII that is its direct competitor (it's only 9% more so practically the difference is negligible). It is direct descendant of the D850 reflex, one of the best reflex currently available. Initial price around $3400.
the Z6 is focused to sensitivity at high ISO and quality in video. Initial price around $2000, so it appears as the minor sister of the Z7, but as just noted on high ISO and video it offers higher quality than Z7.
You can find the card of the Z7 in our LightPoint Lens Database at this link, the card of Z6 at this link.
Let's see the most interesting characteristics of the Z7 and Z6 with a (spec-only) comparison with their competitors respectively Sony A7RIII and Sony A7III, waiting in the following months for practical tests with final versions:
Sensor: backside illuminated with 45.7 MP (Z7) and 24.5 (Z6) megapixels, basically on par with Sony (respectively 42 e 24 MP). Just field tests will show actual color fidelity, high ISO cleanliness, background noise.
Weight: 675 grams, just 25 grams more than the Sony. On par.
Weather sealing: all 4 are tropicalized, but historically Nikon is more able to build a sealed and though body (e.g. the D850). Probably

Nikon

will win but only on paper it is hard to say.
Burst shoot: 9 frames/sec (Z7) and 12 (Z6) but exposure is locked on first frame and without live view - to have them both you have to shoot at no more than 5.5 fps; the two Sony show 10 fps with continuous exposure and live view is available up to 8 fps. Besides that, the Sony buffer is much larger: 76 (A7RIII) or 89 (A7III) RAW shots versus around 23 RAW shots (at 12 bit, not 14 bit) in Z7, the Z6 will last longer before filling the buffer since the sensor produces smaller image files. The final Nikon versions maybe a bit better but not a lot, surely smaller buffers than Sony.

Sony

wins.
Metering: different technology between Nikon and Sony that have to be tested on field, but as far as the ability to meter in low light, the Z7 is equivalent to the two Sonys being able to work down to -3 EV, while the Z6 reaches even -4 EV. Small advantage to

Nikon

.
AutoFocus: being a mirrorless, Nikon has extended the area covered by the AF points (on reflex this is quite hard) and added many of them, offering respectively 493 (Z7) and 273 (Z6) points on about 90% of the sensor area. The Sony ones offer 399 (A7RIII) and 693 (A7III) points, so the "base" Sony A7III wins on all, while on 42-45 MP models Nikon has 25% more AF points with respect to the Sony counterpart. Sony only provides also the famous Eye AF (focusing on a human eye) that is very useful for portraits, Nikon does not offer that. The Nikon Z AF is a combined contrast-based (precise but slower) with a phase-based (fast but less precise), as it is in the Sonys, but the combination seems to work only if the lens is a native-Z one, while Sony generally uses it also with non native lenses mounted through an adapter. Besides seeing how the new Nikon behaves in practice (some early tests of some launch-event invited photographers seem to highlight AF problems in low light but it is still not the final firmware version (see for example Tony & Chelsea Northrup youtube link).

Sony

wins.
Stabilized Sensor: Nikon introduces 5-axis sensor stabilization for the first time, as Sony is offering since some years. Real field tests will tell its effectiveness, both Nikon and Sony claims around 4.5-5 stops gained for slow shutter shots but we know this parameter has a lot of variation according to the shooter, the type of lens and so on. Usually the sure benefit is around 2-3 stops. On specs Nikon about on par with Sony.
Battery: here figures are a bit shocking - according to the CIPA conditions measurements a battery lasts for only 330 (Z7) or 310 (Z6) shots! These are not numbers of pro cameras, the two Sonys show respectively 650 and 710 that is double number. Said that, who has tried the pre-production models has experienced much longer battery, at least 2-3 times, so in reality the situation is not that bad, though in comparison

Sony

wins.
Electronic Viewfinder and Display: here Nikon has employed the best technology currently present in the high end cameras, a viewfinder with 3.69 megapixel (that is very sharp, not making anyone regret the definition of an optical one), that is the same of the Sony A7RIII, while the Sony A7III stops at 2.36; magnification of Z6/Z7 is 0.80x versus 0.78x of Sony so the image is shown pleasantly bigger. The rear display size is 3.2 inches (versus 3.0 of Sony) with resolution of 2.1 megapixel (versus 1.44 and 0.92 of Sony) so the Nikon one is clearly superior. The display is partially articulated, as in Sony, so that it is not possible to rotate it to face the subject for self-shots/videos. Finally, Nikon has added also a small monchromatic LCD on top of the camera to show the main settings (mode, aperture, time, ...), as in the old reflex,; it can be useful to check settings without having to keep the big LCD on (the big LCD consume more power).

Nikon

wins here.
Storage support: Nikon has opted for the XQD and not for the more common SD, so cards will be a bit more expensive though faster. Here on storage we see the most negative aspect of the new cameras:

there is just one card

slot, so it is not possible to use a secondary card for backup, that is quite common for pros, who cannot risk to loose an event shooting ("sorry, could you please get married again since my card got corrupted....?").

Sony

wins especially for pros.
Video: on the paper the supported resolutions are the same of Sony, with Full HD up to a 120 frame/sec and 4K up to 30 fps. A very low contrast profile N-log (Nikon-log) is provided to extract maximum dynamic range in post production with grading (every brand provides its own log profile, Canon-Log, Sony-Log...), range that is said to be 12 stops wide. An interesting feature is the possibility of outputting externally with quality 4:2:2 at 10 bit, reserved so far to video-specific recorders - not available on Sony, in the mirrorless world it is provided by the Panasonic GH5 that is the top video model but has a micro four-thirds sensor, so half the size of the Z Nikon. The rolling shutter (vertical bending of images when fast moving for the sensor not being able to capture instantaneously all data) that is a weakness of all cameras, in different measures. On specs, light advantage for Nikon for 4:2:2 10 bit output, but surely the real quality of normal footage and video AF will be more important.
Concluding this analysis, it is surely a very important step for Nikon but it seems as the technology inside the new cameras, at least based on specifications, is 1-2 year old, in other words no deep innovation with respect to current Sony full-frame cameras.
Clearly real field tests will determine precisely how these new Z models stand in front of the competition, and the mirrorless battle between Nikon and Sony and... soon probably Canon will be an interesting show to watch.
Your opinion?